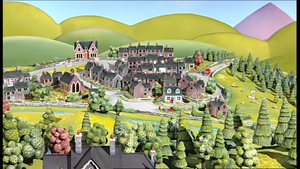 Greendale is the home of Pat Clifton and the main setting for the series of Postman Pat.
Characteristics
Edit
It is a large, busy village located at the heart of the Cumbrian countryside. Running through the centre of the village is High Street, where Greendale Post Office is situated. At the edge of the village is the train station, home to The Greendale Rocket, and where Nisha Bains and Sara Clifton run a cafe there while Nisha's husband Ajay Bains runs a regular schedule on The Greendale Rocket to the nearby town of Pencaster.
Greendale Crag is located near the village.
Greendale is also known for its windy and narrow roads in the valley which can make Pat's works more difficult when they get blocked or full of impassable snow drifts.
Inspiration
Edit
Greensdale was inspired by the real valley of Longsleddale, near Kendal in southern Cumbria.