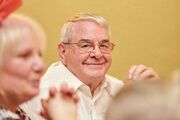 Leslie Hulme, better known as Ken Barrie (Born January 9, 1933 - Died July 29, 2016) was an English voice actor and singer who served as the narrator and voice actor of Postman Pat.
He was born in Tunstall, Stoke on Trent, Staffordshire in England.
In the first series in 1981 he voiced all the characters, serving as the narrator. Starting with Postman Pat takes the Bus, Carole Boyd did the voice acting for all the females and children. While Ken voiced all the male characters and Granny Dryden.
A singer by trade, Ken sang the famous theme tune and the various songs in "Postman Pat", as well as the theme tune and songs for "Charlie Chalk", another Ivor Wood TV series.
In 1989, Ken also sang two Christmas singles, "The Christmas Pudding Song" and "The Christmas Tree", produced by Bryan Daly who also composed the Postman Pat theme song.
In 1992, Ken sang a parody of the Postman Pat theme for an advertisement of HP's Postman Pat Spaghetti Shapes.
In Season 6, Ken's role of Pat was taken over by Lewis MacLeod, but he continued to voice his other characters. In Season 7, Ken stepped down from the show completely.
After a short battle with liver cancer, Ken Barrie died at his home in Denham, Buckinghamshire on July 29th, 2016.
Voices
Postman Pat (Seasons 1 - 5 & Specsavers Advert)
Matt Clifton
Mrs. Goggins (Season 1 only)
Ted Glen (Seasons 1 - 6)
Alf Thompson (Seasons 1 - 6)
Dorothy Thompson (Season 1 only)
Bill Thompson (Season 1 only)
Reverend Timms (Seasons 1 - 6)
Mrs. Pottage (Season 1 - Postman Pat's 123)
Katy and Tom Pottage (Season 1 - Postman Pat's 123)
P.C. Selby (Seasons 1 - 6 & specsavers Advert)
Lucy Selby (Season 1 only)
Doctor Gilbertson (Season 1 only)
Sarah Gilbertson (Season 1 only)
Mr. Pringle
Charlie Pringle (Season 1 only)
Miss Hubbard (Season 1 only)
Sam Waldron
Granny Dryden
Peter Fogg
Major Forbes (television series)
George Lancaster (television series)
Father Christmas
The Train Inspector
Songs
Postman Pat
The Farmer's Song
Handyman Song
Mobile Shop
Jess the Cat
Miss Rebecca Hubbard
Tuba Song
Clap Your Hands (TV Version)
Seaside Special Song
Pancake Race
Carnival Time
Out There
Village Fête
Tinsel and Fairies
Postman Pat's Secret
Ghostie Song
Miss Hubbard's Lost Bicycle
Promises
Balloon Song
Transformation: Winter to Summer
Gallery
External Links
Community content is available under
CC-BY-SA
unless otherwise noted.