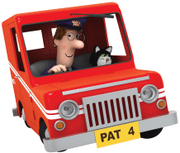 PAT 4 is the SDS Mini Van and is a vehicle used by Pat Clifton while working at the Special Delivery Service in Pencaster. Its number plate reads "PAT 4".
Multiple versions of this van appear in Postman Pat The Movie
It is exactly the same model as PAT 1 but it has a darker shade of red and has two white stripes running right along it like all the SDS vehicles.
As PAT 4 shares the same model as PAT 1, it is likely to be based on a 1980 Lambretta William Voiturette van.